App Store is an app hub for the iPhone/iPad users where one can find all the apps and games that can power up their device for perfect use. Using the app store, you can be able to search for any new apps that hit the iOS ecosystem and download/buy them, add them to the wishlists, share them with your family and friends, redeem promo codes and gift certificates, and claim refunds if something goes wrong or is not what you had been promised. Here is all you should know about the app store and the way you can use it.
Jump To Section:
App Store On iPhone/iPad – Get Answers To All Your Queries
There are quite a few changes that Apple has announced for the upcoming iOS 11 and a major revamp will be given to App Store as part of those changes. To begin with, there is going to be an all-new design that the new App Store will come with. There will be new tabs that give users a more focused approach to finding desired content. The most important of them all is the Today tab where you not only find the latest content but also get to know all the tips and tricks about that content. If you want to know more about the App Store you can find it here:
Downloading Apps And Games From The App Store On iPhone/iPad
Buying an iPhone/iPad is only the beginning. There are millions of games and apps out there that allow iPhone/iPad users to enjoy the experience with their device to the fullest. They can really transform your device into a wonderful little gadget. The apps can allow you to get social with your friends on Facebook, use Snapchat, learn many new languages as you may like, get to learn the latest in science or math, avail the best available car services, edit documents while on the move, and even play some of the best video games around for iPhone/iPad. But for all that, you will have to download apps and games to your device from the App Store. Here is how you can do that.
Downloading Apps And Games From The App Store On iPhone/iPad (Link to this article)
Sometimes, as it happens, you are not able to view the latest content in the App Store and, everytime you open App Store on your device, all you see is same old content. This problem can arise due to some cache issues and App Store may be showing you whatever is residing in the cache.In order to get access to the latest from App Store, all you have to do is to clear the cache and force reload. Here is how to do that.
How You Can Save And Share Your App Store Content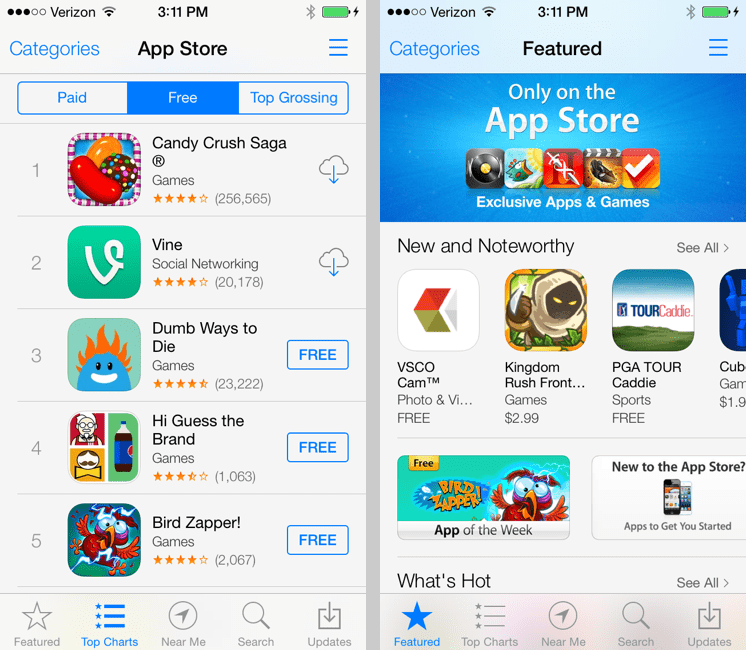 Even though downloading apps from the App Store is really simple and straightforward, it is very much possible that you may like to download something later. If you choose to do that then you'd definitely need to put the apps or games you're interested in some folder where you can find them easily again when you want to download. Well, App Store offers the wishlists for that. If you want to download some app later then you can add it to the wishlistand can download it later or share it with your family and friends. It is also possible for you to check apps that you have downloaded already on your iOS device. Here is how to do all that.
How You Can Gift And Redeem Apps in App Store
App Store that you have on your iPhone/iPad is actually built around iTunes,and quite similar to iTunes it is possible for you to send gift certificates as well as receive them. You can also gift games and apps and redeem them as well on your device. This really is one great feature and iPhone/iPad users always love it. The best thing is that all this can be done right from the iPhone/iPad that you are using. Here is how you can gift content from App Store to those you care about and how you can redeem something like that on your iOS device.
How You Can Get Refunds On Your App Store Purchases
If you are facing any kind of issues with any of the games or apps that you have purchased from the App Store, it is possible to claim a refund. You can request Apple directly to have a refund. But remember, there needs to be a solid reason to satisfy your claim for a refund. You should not be using it as a way for you to try games and apps for short term or have some free trials.
Some valid reasons could be that you have bought something from App Store accidentally, wrongly, or got something that was not promised. In any of these cases, you can get your many back by requesting Apple for a refund and justifying your claim. Here is exactly how you can be able to request a refund for the purchases you made at App Store.
So, that's all about the App Store and you can now use App Store with full command as all the useful information is right there at your disposal.If you still face any kind of problems while using App Store on your iPhone/iPad, or have any questions which are not covered in this guide, you can discuss them in comments here.