When you buy a new iPad, you love to have some of the best free apps installed on your new device to make it functional and fun. However, every best thing doesn't come for free. If you want to go pro with your iPad then you may be interested in getting some of the best paid apps for iPad that can really revitalize your iPad experience.
Jump To Section
Top Paid Apps For iPad 2017
So, let's take a look at best available paid apps for iPad in 2017 one by one.
Alto's Adventure
Alto's Adventure is probably the most loved smartphone games ever. The endless runner brings a lot more to user experience. Those gorgeous visuals, motivating tutorials and the calming music can really give you a refreshing experience.
You essentially take the role of the mountain boy searching around for his llamas throughout the game. When you collect llamas, you earn points. The same goes for grinding bunting as well as landing tricks. If you're a fan of endless runners and still want something new then this game is just for you. The app is available only for $4.99 on app store.
Fantastical 2
Every iPad comes with its own in-built Calendar app and many iPad users live with the belief that it's the best they've got. Well, they're certainly mistaken and should take a look at Fantastical 2 first. It is, in fact, something that can be called "The Best". The app gives you the much needed organization by combining all the calendars in a single place. Adding events becomes pretty straight forward with Fantastical 2.
Just launch the app and tap add button. Now add a sentence normally to describe your upcoming event. The app turns that into an event which can then be added to the calendar. Settings can be adjusted for getting alerts from Fantastical. There can be timed Reminders as well which allow you to stick to your schedule.
The app has an intuitive and pleasant interface and is available for $9.99.
1 Password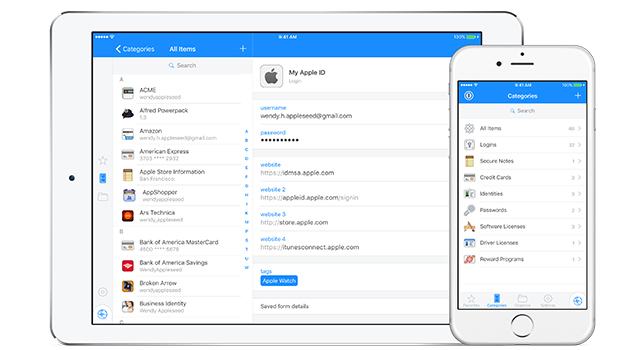 1 Password serves as your password vault where you can keep all your passwords and other important info safe. This way, as the name suggests, you just have to remember 1 password and everything else can be found inside that password. You don't really need to remember all the accounts you have and their passwords separately. Also, the app allows you to login to different websites on only a few taps rather than typing in everything each time.
Your master password protects all the underlying passwords and if you don't even want to remember that one password, you can use the TouchID feature of your iPad to unlock and reveal all details kept under 1 Password. The app makes use of end-to-end encryption while storing encryption keys on your iPad all the time. Even several vaults can be created for keeping things neatly organized.
The app can be downloaded for free but you need a subscription after 30-days trial period ends. In fact, subscribed version is even better than the free one. You can subscribe to this app for $3.99/month and keep every password you have safe.
Duet Display
Duet doubles up the display on your iPad by giving you touch access to your PC or Mac. Things like 2-finger scrolling and pinch zooms can be performed giving you the impression that you're working on the iPad rather than a PC or Mac.
If you're a big fan of Apple Pencil, that can be used with the Duet Display app and can draw essentially anything you like on your PC.
Just pug the iPad into a laptop or desktop and that's all. With wired connection, there won't be any kind of lags and you can increase productivity by bouncing around between both your displays. The app is available for $9.99.
Oceanhorn: Monster Of Uncharted Seas
Those who are a fan of medieval-style RPGs, Oceanhorn really gives you the experience you have always been in search of. As you play the game, you set out on a great oceanic adventure while searching for your father who has gone missing. All you have to begin with is some type of mysterious necklace and old notebook.
The game combines perfect storytelling, wonderful visuals and some exciting gameplay. So, solve puzzles, battle the monsters and master the magic while unraveling mysteries of the Uncharted Seas. The app can be downloaded for $8.99 from app store.
Minecraft: Pocket Edition
Minecraft has really transformed from a simple online gaming experience to a multi-platform masterpiece. If you've always played the game on your PC or Xbox then keep enjoying it while on the go by having a Pocket Edition of the game on your iPad.
So, download the app for just $6.99 and create castles, skyscrapers, vehicles, houses, amusement rides and just about anything you can name. Live all your fantasies with pocket edition of Minecraft.
Stop Motion Studio Pro
If you have ever thought of creating your stop motion videos then this app is certainly a dream come true. It offers the perfect platform for beginning as it breaks down the stop motion animation and lets you take control of things.
The different modes offered by the app allow you to control animations better. In overlay mode, for instance, you can find out that difference between the frames. In grid mode you can be able to move your animated objects and position them quickly. It is possible to copy/paste and also delete different frames on the timeline. The zooming features are also available to make sure that you do not lose the place.
If your iPhone has 4K video recording features, even stop motion 4K videos can be made using this app as well. Pictures can even be imported from the photo library for creating movies. Different effects can also be added to the videos as well.
With all such great capabilities, Stop Motion Studio Pro is certainly worth an install. Download it now for just $4.99.
Scrivener
If you love to write while you are on the move, you must have Scrivener on iPad. Scrivener is a great app for those who do writing in the long form. The app offers everything a writer needs for creating some great pieces effectively.
Check Some Related Posts: 
[yuzo_related]
The app allows you to continue working on multiple documents side-by-side. If you have a habit of barfing out all the ideas and then arranging them once you have everything right in front, Scrivener really makes things easier for you. It allows you to drag/drop sections as you like. You can also switch devices while working on your documents as the progress can be synced with the iCloud.
You can even print the documents right from the iPad. The documents can also be exported to PDF, plain text, Word Doc, etc. Download the app for $19.99.
V For Wikipedia
You may go online and search for everything you like on Wikipedia but it would be even better to have access to the entire Wikipedia through one intuitive app. The 'V For Wikipedia' app works as your Wikipedia reader that gives you a mobile-friendly reading experience. When you want to have what you're looking for through a pleasant and welcoming interface, this app is the answer for you.
The app even lets you to use your location for retrieving some interesting landmarks close to you and then it comes up with related Wikipedia articles that give you information on those landmarks. Download the app for $4.99 and explore places around you only with your iPad's GPS function.
dJay Pro
dJay Pro is your ultimate DJ performing app. The app integrates itself with the media library on your iPad as well as spotify to keep mixing tracks as you want. With four decks, HD waveforms and the video mixing capabilities, dJay Pro gives you everything you need for a perfectly entertaining experience. You can now party at your home right from your iPad with this wonder app.
Things can be laid out as per your liking and different tools can be used the way you want to give yourself a fully customized experience. Integrating Spotify lets you have a pre-bundled video library offering content, titles, cool transitions, etc. It's a perfect app for the professionals who just want to have a quick way of entertaining themselves. It is also possible to buy FX packs if you are not satisfied with the effects that come with the app.
So, download it today for $9.99 and enjoy a great mixing experience.
Pixelmator
Pixelmator is the perfect replacement of Adobe Photoshop for the iPad users in 2017. It gives you that same layer-based editing platform that is exclusively made for the iOS devices and offers exactly the same type of functionality. You can control colors, saturation, brightness, blur, sharpen, remove blemishes, add effects, etc.
Pixelmator is not simply the app for image editing, it even lets you paint images using your iPad. There are more than hundred different brush styles for you to choose from allowing you to paint watercolors, acrylic-style paintings, pixel art, etc. With all that, the layers can still be used for isolating spots on the images. The app offers compatibility with the Apple Pencil as well and gives you better control over the creative process.
What's more? Pixelmator can be taken as a power tool for graphic designing as well. It allows you to add words, images and shapes for creating artwork and promotional material that really looks visually appealing.
Convinced to buy this app now? Spend $4.99 at app store and have it on your iPad. It really is a great app to have.
Yousician
The app makes use of the microphone in your iPad for teaching you how you can play piano, bass, guitar or ukulele. There are video tutorials that teach you the process in steps and then you are required to play yourself while you are critiqued by the app. Whether you are a beginner or a seasoned professional, Yousician has something to teach you. It learns your level of skills with a certain music instrument that you want to learn and then prepares lessons for you accordingly.
The download as well as some initial lessons can be done for free, but for learning instruments completely you need to get the subscription. But remember, every penny you spend is well worth it. So, if you really want to learn all the aforementioned instruments in a fun way then you should get the subscription for Yousician starting at $19.99 per month.
Procreate
Procreate lets you create wonderful art pieces from your iPad. It also uses layers just like Pixelmator and Photoshop and also offers so many unique filters and brush styles for enhancing editing capabilities of the iPad users. With its pressure sensitivity, procreate lets users to use Apple Pencil for designing purposes as well. The app is a great gift for those who love drawing. You can even find blending tools in Procreate such as blur and smudge tools for blending colors and seamlessly integrating different layers of the images. Images can also be cropped to keep only the desirable parts, giving you maximum control over things you can do with Procreate.
Available on app store for $5.99, Procreate is quite similar to Pixelmator but its focus is more on transformation and editing of the artworks one may have.
Editorial
Do you write on the web? If yes then you will probably find Editorial a great app for you. It is a text editor that is made specifically for the iOS users. There are inline previews offered for Fountain, Markdown and the TaskPaper formatting allowing you to view everything the way it will appear once you are done. Documents are formatted as you write and the Snippets – text that is used on a frequent basis – can be used for increasing your productivity.
If you are a blogger, the most annoying thing for you would be bounce back and forth all the time between research and writing – even when you are browsing in separate windows that are opened alongside each other. But with Editorial, you get the privilege of having in-app browser which ensures that you do not need to rush back to home screen for finding the browser, searching content you are looking for and then going back to the Home Screen again. If you have to make such switches, you often get distracted and can't focus on your work. It's a great app to have for meeting every deadline you have to meet.
Also, with Dropbox sync feature, you can access your documents while on the go. This certainly makes Editorial your ultimate choice when it comes to text editors. And, it's cheap as you can buy it for just $4.99.
Goat Simulator
It is an amazingly whacky game where you play to cause maximum possible destruction by smashing into cars, blowing through the buildings and running people over.
If you're more of a serious gaming fan and want something with solid story then you should probably not bother downloading this one to your iPad. Goat simulator is about sheer freedom and stupidity. If you have ever played Pro Skater from Tony Hawk then you can get the idea exactly what type of game it would be. You just cause destruction and rack up certain points for that. So, if you are looking for some humor and want to laugh as you do crazy things, download Goat Simulator for $1.99 only from the app store and find out how it feels to be like a goat.
Coda
It is yet another wonderful text editor that iPad users can get their hands on. In fact, it is even robust and powerful than Editorial that we first discussed in this article. It is a full-featured application which highlights coding syntax for software writers and developers. It powers the user up with context keys, find & replace and clips features. Coda allows you to manage all your stuff remotely or locally as you like.
The app is a great solution for web developers as it lets them to manage several projects right from their iPad. There is support for several remote protocols such as SFTP, FTP, WebDAV, DreamObjects, etc. The app also adds some special characters and context keys to the keyboard of your iOS device.
If you are a programmer who needs a bit of freedom and want to manage things on the go right from your iPad, spend $24.99 and buy Coda today from the app store.
Astropad Studio
It is very much similar to the Duet Display that we discussed earlier as it serves as an alternate screen for Mac. However, it makes the iPad your integrated tablet. Just connect to Mac using USB or Wi-Fi and start using those creative apps like Illustrator and Photoshop.
The app comes with customizable shortcuts for Apple Pendil, gestures and also offers keyboard support. It is available for free for a 7-day trial period and after that you have to subscribe for it by paying $7.99 for a monthly subscription or $64.99 for a yearly subscription.
Tweetbot 4
If you are a twitter-crazy socialite then Tweetbot 4 is just for you. The app lets you to sync your twitter timeline on all the devices you use besides giving you total control over what you can see.
The app lets you to mute tweets from specific users or mute hashtags and keywords making sure everything flying around may not frustrate you and you may not end up quitting Twitter forever. Still, everything can be done normally – tweet, DMs, view lists – and can top up your twitter experience with statistics view, night theme and lots more.
So, if you want to keep track of how you are doing on twitter and what tweets are getting popular, you'd find Tweetbot a great asset for you. It is available on app store for only $9.99.
Bear
Pick any list of best paid apps for iPad and you'll find Bear there. Not much goes with its name as it is actually an app for note-taking. Whether you want to take notes in your class, prepare your shopping lists or note down reminders, Bear lets you do all that.
When writing for professional or creative purposes, Bear allows you to link your notes with one another ensuring that your ideas are kept in some convenient group.
It even lets you to make code snippets as well as write in different markup options. With Pro subscription, you can have access to a whole lot of editing tools as well as export options for you. The subscription starts at $1.49 per month and it can be $14.99 per year. When you have a subscription, it also enables syncing option for all the devices you have. Besides, you can change the theme of the app and get updates in a quick fashion compared to non-paying users.
Paprika
If you're a food lover then you must have Paprika on your iPad. It's the best available recipe manager that lets you make your own recipes and update them on your device. Paprika also lets you to download great recipes from lots of different websites around as well as other similar recipe apps. You can also prepare your grocery lists with the app and get some useful tips on cooking process and the particular recipes. The recipes can be categorized into subcategories for allowing iPad users to easily locate the recipe that they want to make.
While cooking, the ingredients already been used can be crossed off and if your recipes taste great then you can share them using email as well. You can even print out those recipes too for keeping them handy or giving them to the relatives.
It doesn't end here, Paprika allows you to prepare your meal plans and utilize pantry feature for tracking ingredients that you have. Besides, the ingredients will be organized on your shopping list according to aisle allowing you to quickly complete your shopping and get to cooking. There are still a lot of features that this foodie app offers for just $4.99. Download it today and see what's in store for you.
So, that's all for today! Pick any of these apps as you like and enjoy your iPad experience in 2017.