So, here is our next episode of iOS 10.2 Jailbreak Tweaks. There are many new tweaks around for the jailbroken devices and here we'll be discussing a few of them including Nomoji, PremiumPlay, ConditionalWiFi2, WeatherStatusBar10, etc. Some of these tweaks are the paid ones while others are free. So, let's dive into it straight away and find out which latest jailbreak tweaks are out lately and why you should have them on your jailbroken device.
Some Of The Best Latest iOS 10.2 Jailbreak Tweaks
So, here are some of the best and the latest iOS 10.2 jailbreak tweaks.
WeatherStatusBar 10
Status bar in iOS is the area that often goes wasted. But this new Cydia tweak now utilizes that unused space quite beautifully. It shows current weather by display temperature in the status bar. It is abailable for $1 on the BigBoss repository.
Fuzzy
If you loved the way iOS 9 used to blur your lockscreen wallpaper whenever some notifications were waiting for you to take a look at, you can have the same effect in your iOS 10 with Fuzzy jailbreak tweak. It's a free cydia tweak that can be downloaded from BigBoss repository on Cydia.
Nomoji
If you don't like your friends using a few emojis over and over again, you can simply opt out. With Nomoji, one of the best iOS 10.2 jailbreak tweaks, your sanity can be saved by filtering the emojis for just $0.99. You can download it from Cydia's BigBoss repository.
PremiumPlay
 AirPlay from Apple is really great to have but it does not work on all the apps. PremiumPlay tries to change that for more popular apps available for live TV streaming. You can have it for $1.99 from Cydia.
OnlineNotify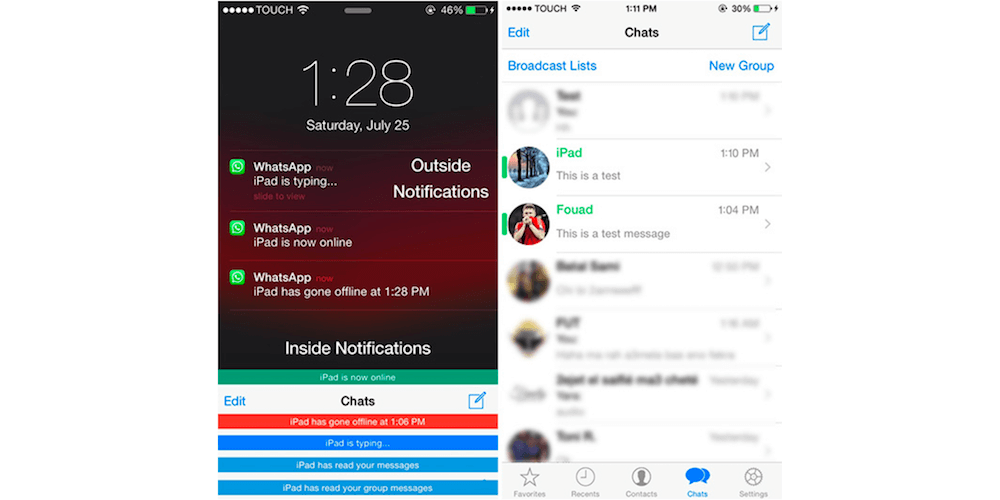 If you're one of those hardcore WhatsApp users, you'd love to see a notification popping up on your iPhone screen whenever anyone in your contacts gets online. OnlineNotify does just that for you. It is available for only $1.99 from Cydia'sBigBoss repository.
ConditionalWiFi2
Sometimes, iOS data controls can't figure out which apps should use the data and which don't. However, with ConditionalWiFi2 tweak installed on your jailbroken device, you can simply control which of the applications can use the WiFi data whenever connected to hotspot. The tweak is available on BigBoss repository for $0.99 only.
NoMessageButtons
This is a wonderful tweak for iOS 10.2 that lets you decide which buttons should appear in Messages application and which should not. If you don't like to see those buttons again, you can simply disable them with NoMessageButtons tweak on Cydia. It's a completely free tweak.
PauseOnMute
It's a simple tweak and still very effective one. The tweak pauses the music automatically as soon as you bring your device's volume down to zero. Everything resumes as normal as soon as you increase the device's volume back again. That's some interesting automation, isn't it! You can download the tweak for free from Cydia and it is available in BigBoss repository.
So, these are some of the latest iOS 10.2 jailbreak tweaks available on Cydia that have been introduced by different tweak developers. If you like any of these, you can download and install them to your device immediately. Though little, they really add some great functionality to your device.