Just like everything else getting revamped in iMessage in iOS 10, emoji's get the same treatment as well. That's something that sounds really interesting to everyone and they love to see the cheers that emoji can bring. There are quite a few workarounds that you can do with Emojisin iOS 10 and here we have discussed everything in detail.
Jump To Section:
Making Emojis 3X Bigger In iMessage
If you're an emoji fan then you must agree to the fact that bigger emojis are always better. With bigger emojis, you get to see all details and the emotions are conveyed properly as well. If you have iOS 10 installed on your device, you can see 3X bigger emojiscompared to what you normally have. But it can happen only in specific circumstances. Here are the steps to follow to make your emojis bigger.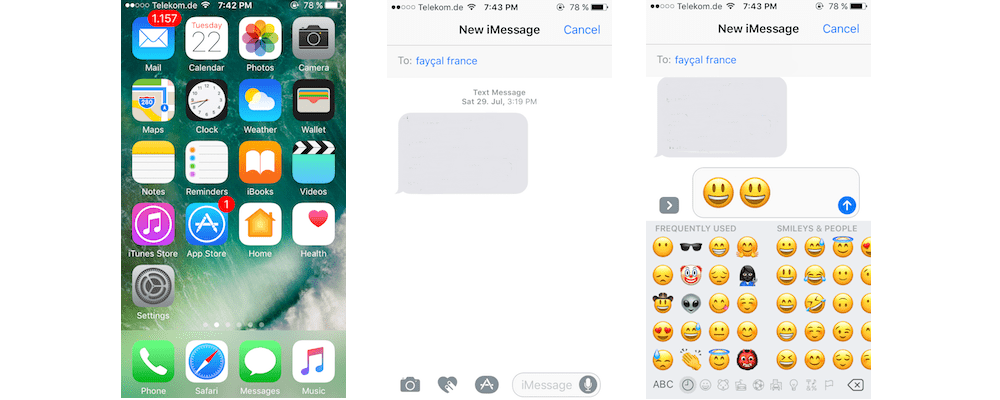 Open iMessage and enter 1-3 emojis in text field
Tap on Send button which appears like upward arrow
Remember that, however, if you enter more than 3 emojis it will go back to regular 1xsize. Also, entering emojis alongside some text will also bring emojis back to the default size. So, keep in mind that 3x size can only be achieved by sending emojis alone and not sending more than 3 of them in one iMessage.
Getting Emoji Recommendations When Using iMessage
When using iMessage in iOS 10, you can get emoji suggestions from QuickType keyboard and it can also predict words as well. But you have to turn predictive keyboard on by going to Settings, and you can't hide them. Here is how you canget Emoji recommendations when using iMessage.
Type your message in text field
There will be emoji predictions showing up in prediction bar, tap any of them. And, if there are multiple predictions then tap on one that you prefer
Tap on Send button that appears like upward arrow
You can get emoji predictions every time you type your message against which there is some corresponding emoji available in iMessage. For instance, if you'll type "I am happy" then you'll have a smiley face emoji in the prediction. On the contrary, if you will type "My car", the suggestions will show "car" emoji.
How To Emojify Your iMessages?
Emojification is something similar to emoji recommendations and you can use it in iMessage on your iOS 10 device. Here is how to emojify your iMessages
Type in the text field when using iMessage
Tap on Emoji button from your device's keyboard
Tap the yellow-underlined words for replacing them with their corresponding emojis
Multiple words can be tapped in a message if they have yellow underline as well, and you can completely emojify your iMessage
Finally, tap on Send button which appears like upward arrow
Emojification allows you to turn as many words as you like into emojisand send messages the way you want.
How To React With Emoji Tapback When Using iMessage
You can't just reply to Messages with Emojis on your iOS 10 device, but you can also use emojis to react to certain messages. This concept is referred to as Tapbacks by Apple. The tapbacks are quite similar to the emoji reactions that we have on Facebook or Slack, and they appear with every iMessage that you receive on your iOS 10 device. Here is how to react to messages with tapbacks.
Tap and hold the iMessage that you receive. (Kind of long press the message)
Now, tap on your desired Tapback, choosing from thumbs up, heart, Ha ha, thumbsdown, ? pr !!.
You won't have to hit any send button after making the selection.As soon as you tap to select one, your emoji reaction is automatically sent to the sender of the message.
What Do Different TapbackEmojis Mean?
As of now, the beta version of iOS 10 comes with following Tapbackemojis. Here is what each of these mean.
Heart: Love, Like, or Favorite
Thumbs Up: Happy, Agree, or Approve
Thumbs Down: Sad, Disagree, or Disapprove
Ha ha: Laugh, whether sarcastically or happily
?: Question
!!: Exclaiming emphatically
How To Change Emoji Tapbacks Sent Using iMessage?
If you somehow reply with an inappropriate Tapback to a message you received in iMessage, or you decide to respond with different Tapbackafter sending one initially, it can be changed quite easily. Here is how.
Tap on the iMessagein which you'd like to change the Tapback and hold it, sort of long press.
Tap on desired Tapback that you'd like to send now and you are done.
The old Tapback will be replaced by new one by doing so.
How To Delete An Emoji Tapback From A Message In iOS 10 iMessage?
You can delete Tapbacks that are sent accidentally. Here is how you can do it.
Touch the Tapback which has to be removed or deleted
Tap on the Tapback reaction that has to be deleted or removed. For instance, if you'd like to remove the Heart Tapback, just tap the Heart
The Tapback in question will disappear immediately. It's pretty straight forward.
Do TapbacksAnd 3X Emojis also work on Mac?
Yes they do! If you are running macOS High Sierra, both Tapbacks and the 3X Emojiscan be sent to or received from a Mac. But again, you must be running the latest OS.
Tapbacks and Emojis really give you a great way of expressing your emotions when using iMessage on iOS 10. They add the interesting and fun part to your messages as well and your texts look really cool with these.